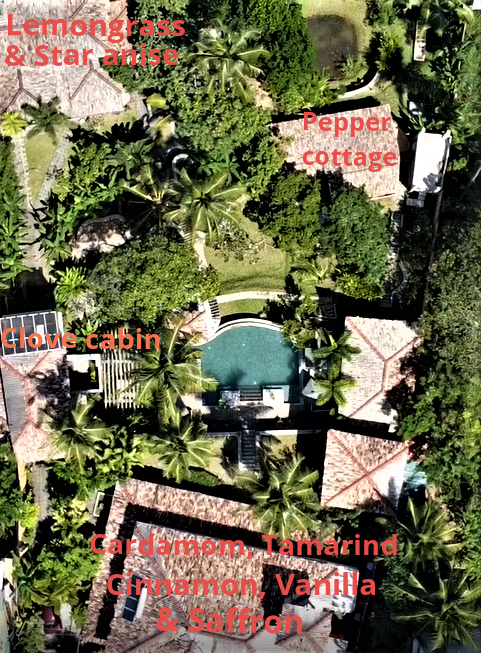 We have a variety of accommodation in the main house - we have 5 first floor guestrooms all with balconies (one is a family room and the others are all doubles) 3 facing towards the sea - Cinnamon, Vanilla and Saffron and two at the back overlooking the pool and garden - Cardamom and Tamarind.
At the bottom of the garden we have a stylish new guest room ( Lemongrass ) which has great views over the surrounding jungle. From the relaxing balcony you can enjoy plenty of wildlife such as friendly palm squirrels, purple faced leaf monkeys, kingfishers, red woodpeckers, yellow oreoles & peacocks. Below this room is the Star Anise room which is ideal for honeymooners, it is very spacious with a double four poster bed, a stylish bathroom and two individual seating areas verandas complete with a wraparound pond.
We also have a family mud house - pepper cottage in the garden which overlooks our natural pond it is equipped with two bedrooms, separated by a bathroom, the children's room has bunk beds. The cottage also has a large coconut leaf covered veranda and a refreshing outside shower with great views over the neighbouring jungle.